Hotels in Makedonia, Macedonia, Greece

Destinations and regions in Makedonia, Macedonia where you can find hotels. Select a destination, to display hotels listed in this region.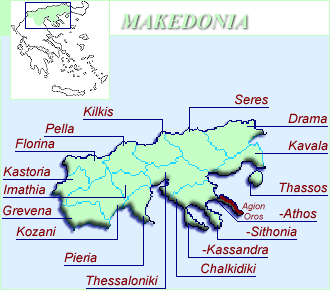 Hotels in
Chalkidiki Athos (Halkidiki, 3rd finger), Poligiros, Ammouliani, Ierissos, Nea Roda, Ouranoupoli, Stavros, Agion Oros
Hotels in
Chalkidiki Kassandra (Halkidiki, 1st finger), Poligiros, Afitos, Fourka, Kalithea, Nea Fokea, Paliouri, Pallini, Pefkochori, Polichrono, Potidea, Siviri
Hotels in
Chalkidiki Sithonia (Halkidiki, 2nd finger), Poligiros, Elia, Gerakini, Kalamitsi, Kalives, Kalogria, Neos Marmaras, Nikiti, Porto Karas, Psakoudia, Sarti, Toroni, Vourvourou
Hotels in
Drama, Dasos Fraktou, Falakro, Kato Nevrokopi, Paranesti, Volakas
Hotels in
Florina, Aminteo, Limnochori, Nimfeon, Pisoderi, Prespes
Hotels in
Grevena, Polineri, Smixi, Valia Kalnta, Vasilitsa
Hotels in
Imathia, Veria, 3-5 Pigadia, Alexandria, Kastania, Kato Vermio, Naousa, Seli, Vergina
Hotels in
Kastoria, Argos Orestiko, Eptachori, Korisos, Mesopotamia, Nestorio
Hotels in
Kavala, Eleftheroupoli, Keramoti, Nea Iraklitsa, Nea Karvali
Hotels in
Kilkis
Hotels in
Kozani, Akrini, Anarrachi, Eani, Eratira, Filotas, Komnina, Livadero, Mavrodendri, Ptolemaida, Servia, Siatista, Tsotili, Velventos
Hotels in
Pella, Edessa, Agios Athanasios, Aridea, Arnissa, Giannitsa, Kaimaktsalan, Pella, Skydra
Hotels in
Pieria (Olympus Riviera), Katerini, Elatochori, Leptokaria, Litochoro, Makrigialos, Panteleimonas, Platamonas, Pieria Ori, Olympus
Hotels in
Seres, Alistrati, Kerkini, Nigrita, Sidirokastro
Hotels in
Thassos, Limenas, Chrisi Ammos (Golden Beach), Limenaria, Makriammos, Potos, Skala Potamias
Hotels in
Thessaloniki, Asprovalta, Epanomi, Langadas, Lefkochori, Oreokastro, Panorama, Perea, Plagiari, Potamos, Sindos, Stavros, Volvi
MAKEDONIA (MACEDONIA)
Macedonia, is a geographical and historical region of Greece in southeastern Europe. Macedonia is the largest and second most populous Greek region. Together with the regions of
Thrace
and (sometimes)
Thessaly
, it is often referred to informally as northern Greece.
Macedonia covers an area of some 34,231 km². High ground makes up much of the region with mountains reaching up to 2,917 metres; extensive fertile plains lie along the Aegean Sea coast. Macedonia is traversed by the valleys of the Aliakmon, Axios, Nestos, and Strymonas rivers, all of which drain into the Aegean. It borders the countries of Albania, the former Yugoslav Republic of Macedonia, and Bulgaria, and the Greek regions of
Epirus
,
Thessaly
and
Thrace
. The offshore island of
Thasos
is within the precincts of Macedonia; together with
Samothrace
, they belong to the region of Eastern Macedonia and Thrace. The capital and largest city is
Thessaloniki
.
The climate of Macedonia can be categorised into two types that influence well-defined regions of its territory. The two distinct types are the Alpine and the Temperate/Mediterranean types. The Alpine type is dominant mainly in the mountainous areas of Western Macedonia and the Temperate/Mediterranean type affects Central Macedonia and East Macedonia and Thrace; it features cold, damp winters and hot, dry summers.
( Text - Sources: wikipedia )